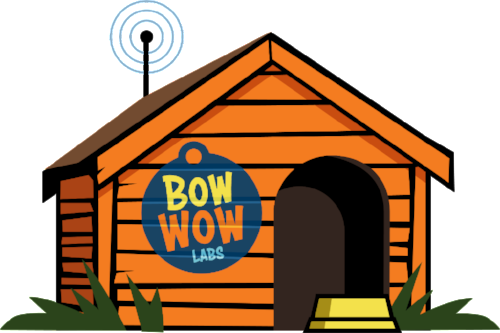 Our Doggie Innovation Hub
We've mixed our dog mania with a dose of design and sprinkled some safety on top to bring you the Bully Buddy safer snacking device and more.
The Bully Stick that Started It All
---
In 2013, Scott Woolwine had a terrible scare when his dog Finn swallowed and choked on a piece of a bully stick treat. What happened next led to the creation of the Bully Buddy 1 safety device for bully sticks. Press play to hear the whole story.
 
---
To take his new invention to market, Scott teamed up with other dog lovers to create an engineering, design, marketing and operations dream team that now makes up Bow Wow Labs.
Our first order of business was to develop a simple, innovative solution to keep dogs safer, healthier and happier when snacking on bully sticks. The Bully Buddy was born and now dogs everywhere can snack safer.
---
Response to our Kickstarter campaign for the original Bully Buddy 1 was so incredible that we have already started development of more sizes to accommodate more dogs.
Our Bitty Buddy, Bully Buddy 2, Bully Buddy 3 and Bully Buddy 4 are nearing the finish line and are available for pre-order now.
---
In this Best Bets for Pets, Pet Life Radio podcast with host Michelle Fern, our dedicated CEO Michael London shares details about how the Bully Buddy came to be, and our plans to bring more products that promote dog safety and happiness to the market.
Hear how a few of our "dog testers" use the Bully Buddy. Plus, learn more about the benefits, and dangers, of bully sticks, and the reasons behind our bully stick subscription model.
---
At Bow Wow Labs, we've got lots of ideas in the pipeline to help keep dogs safer and dog owners happier. If you've got an idea for a great product or if you have a pet problem you don't know how to solve, drop us a line.
Check back often to see what's new or read about what inspires us.